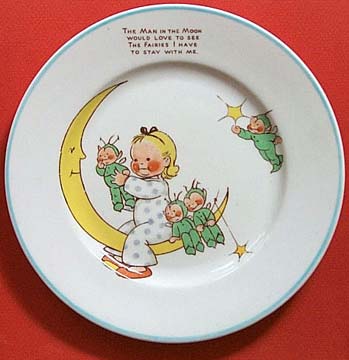 184.
Shelley China teaplate origimally designed by Mabel Lucie Attwell in the 1920s/1930s and illustrated with a cute little girl seated on a crescent moon accompanied by "Boo Boos" (The name for the little fairy folk that inhabit
many of Mabel Lucie Attwell's children's designs of the 1920s and 1930s.) The legend reads : The Man in the Moon
would love to see The Fairies I have to stay with me".
These ceramics are now difficult to find and have become highly collectable worldwide over the last decade or so.
This example has one the best children's illustrations on ceramics that Mabel Lucie Attwell designed,
This teaplate is also in very good condition and bears the printed mark "Fine Bone China Shelley England Copyright Design".
Diameter 7 inches (approx.)
Price : £120. Sold
Please note: As this page "Pick of the Week", is subject to periodic updates. and if a search engine brought you here and the item you seek is not on this page, you may still find it on this site by visiting the "index" page and searching through the linked listings in the scroll box menu.
Home-Page | | Information | | E-Mail | | Index